I am an outgoing, fun and friendly person who easily relates to people. My husband and I live locally in Blenheim and welcomed our daughter Alexis in August 2018.
I enjoy sports, being outdoors and spending time walking my dog down the river.
My relaxed personality and sense of humor makes me very easy to get along with and will help you to stay cool, calm and collected on your big day. I like to offer a modern approach to being a Marriage Celebrant and my flexibility means your ceremony will be just the way you want it.
I am a member of the Celebrants Association of New Zealand.
I specialise in modern, romantic and relaxed ceremonies, both Weddings and Civil Unions. Using my ceremony builder, I can help you create your perfect day including vows you have written yourself or standard vows... the options are endless. I am happy to travel to any ceremony within the Marlborough Region.
If you are looking to refresh and renew your vows, I can help you create a unique ceremony. If you want to replicate your original big day, or put together something brand new, I am happy to officiate any type of service.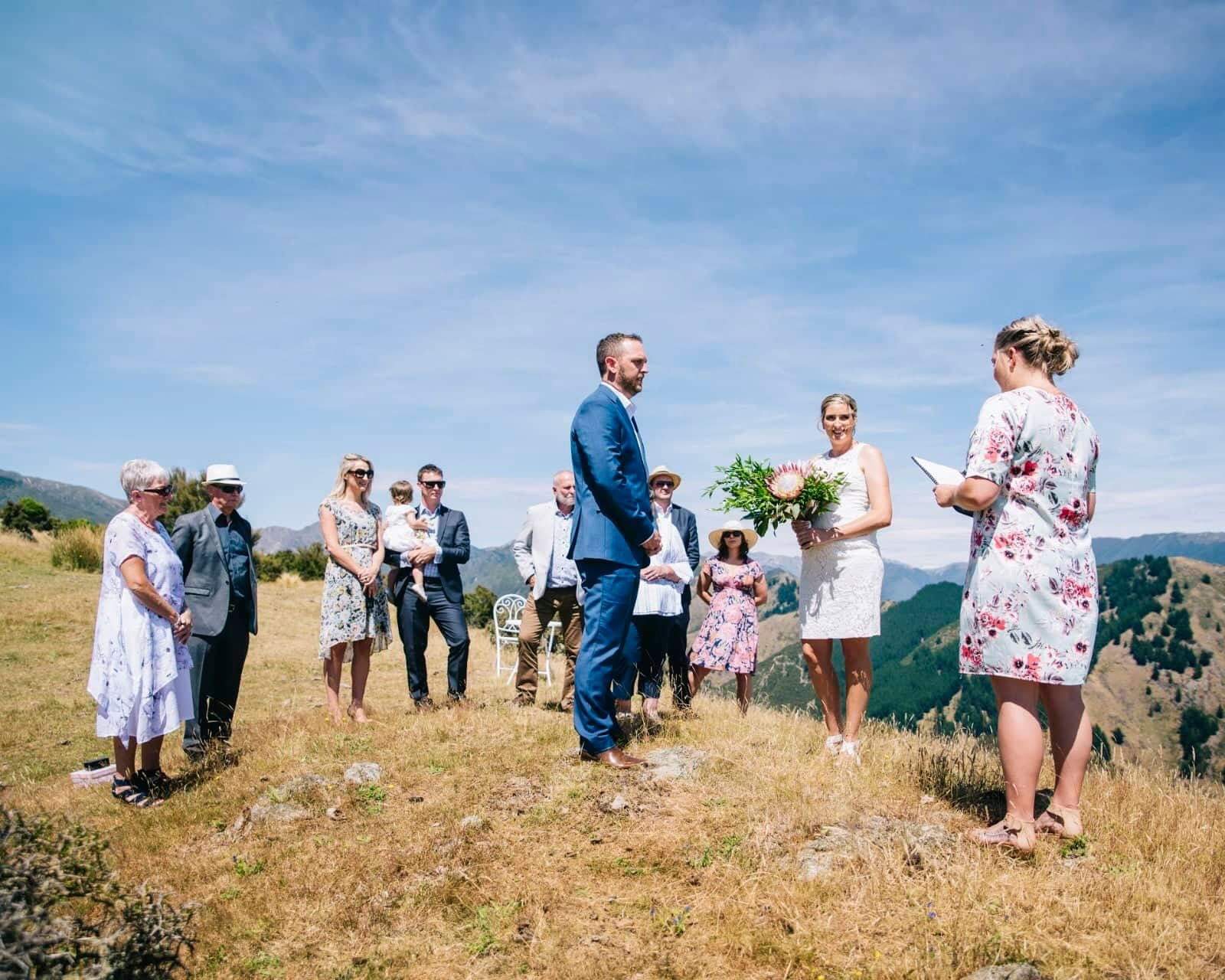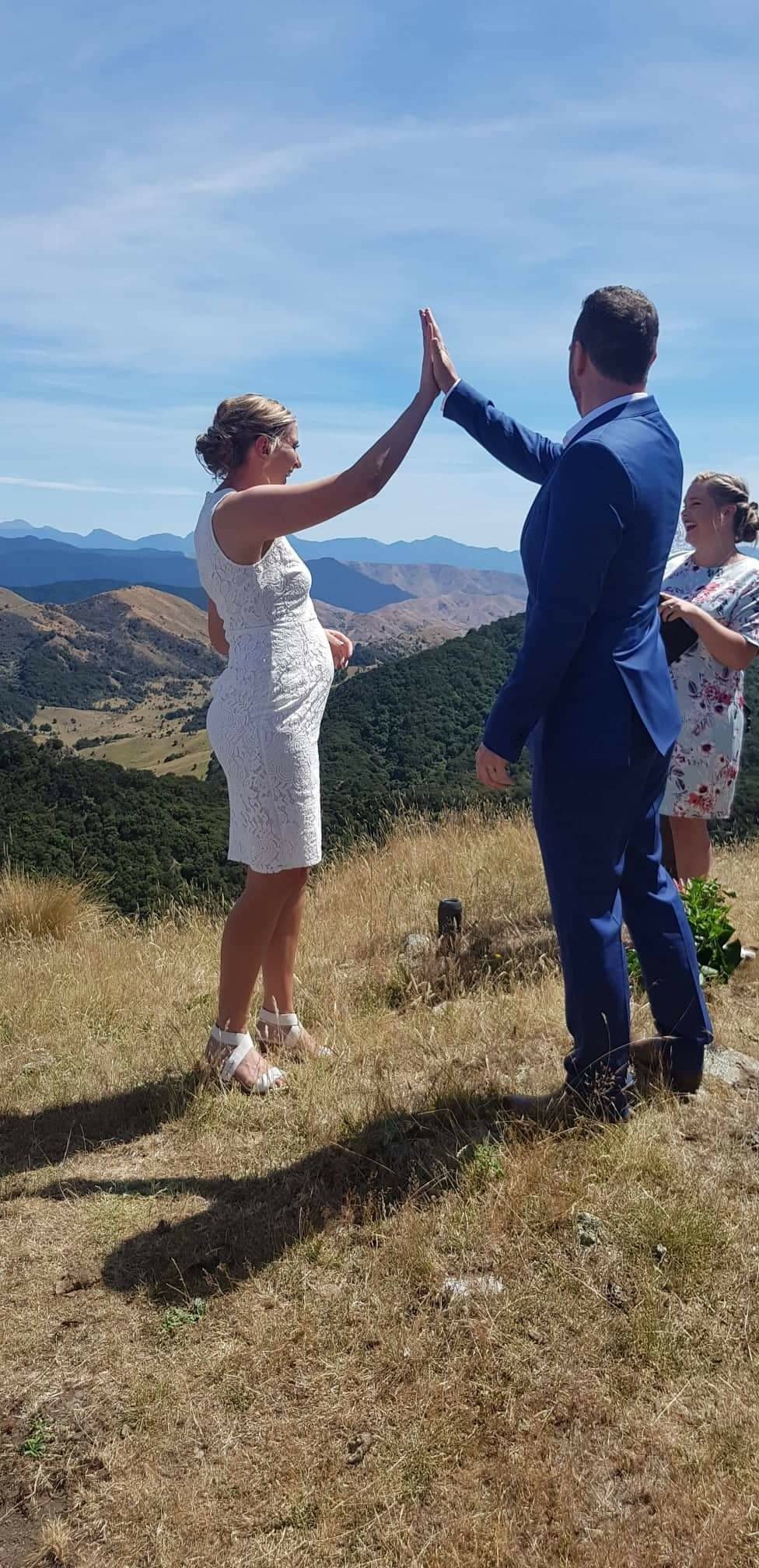 Contact me
Finding the right Celebrant can be daunting. For a no obligation catch up, please enter your information on the form below and I will get back to you.
Please complete the form below
Pop Up Weddings…
I am lucky enough to be involved with Your Day Weddings and Events along with some other fantastic Marlborough vendors to provide Pop Up Weddings. This is a fantastic option for those who would like a beautifully planned event but without all the hassle of planning and booking. Everything is done for you!! You can find out more about Pop Up Weddings on the link below!!
FAQ
What is the cost of hiring a celebrant?
Costs can vary depending on the type of ceremony you require. Of course there is no "one size fits all" ceremony! For me, being a celebrant is not about making money, it is about helping a couple to truly celebrate their love for each other on the day. I am very flexible around pricing, please contact me for further details around this.
Do you provide a sound system?
I certainly do! I have a brand new Sony sound system, including a microphone, which you are welcome to use during your ceremony. The system doesn't require mains power and can also sync in to play your wedding music so no matter where your ceremony takes place, everyone will be able to hear those special moments.
What should I expect when we first meet?
I want to know all about the both of you! Making sure that your ceremony is unique and fitting to your personalities is most important to me, so on our first meeting I'll be asking all about how you met, your life as a couple and most importantly what your plans are for your wedding. In return please feel free to ask all about me to make sure I am the best fit for your big day!
How Long SHould My Ceremony Be?
The length of your ceremony is totally up to you. Some couples like to keep things short and sweet with a quick 5 minute ceremony only including the legal bits and pieces. Others can take closer to half hour and include multiple readings, mini ceremonies and musical performances. The options are endless!
THANK YOU so much for making our day perfect. and for giving us the ceremony we wanted. it was so nice only having to remember i do and you made us both so relaxed.
Thank you so much for being such an integral part of our big day! We genuinely have nothing but positives to speak of you and are so glad we choose you. We loved that you were so laid back yet so invested in making our day exactly what we wanted it to be. Nothing was ever a problem. From the moment we first reached out to you, to meeting and then getting our ceremony drafts, the whole process was such an enjoyable one. We loved having such involvement in creating the ceremony and the fact you took the time to write it just for us. Being younger you were so relate-able and were a lot more upbeat and bubbly then other celebrants we met which we found was the best fit for us and who we are. You captured the love of Josh and I perfectly and I would honestly do it all over again for the fact you made it such an amazing experience! vowel renewal in a few years perhaps?! haha
Thanks again
Mr and Mrs Humphreys
Jeanine and Nathan - January 2019
Because you don't always have to kiss the bride- you can HIGH FIVE!!!
Freya and Josh - February 2019
For Hire
Making sure you have the essentials for your Ceremony is all part of the service.
Signing Table and Chairs
Signing your Marriage Licence is one of the most important parts of your Ceremony, this is what makes your Marriage legal! This table and chairs set is easily transportable and looks fantastic in photos. The set is available for hire separately or as part of the Full Services package.
Microphone system
The first of its type in New Zealand, this Microphone system is wireless and doesn't require mains power. The wireless connection is clear and has multiple channels meaning you can use this anywhere. The Microphone is top quality so it wont pick up wind noise of background noise meaning your guests won't miss out on any of the important parts of your Ceremony.
Sony Speaker
Also wireless and with a battery life of 16 hours, the Sony Speaker system is perfect when paired with the Microphone system. This speaker can be connected via Bluetooth to play your Ceremony music as well. It is light weight so can be carried just about anywhere! This speaker is available for hire separately or as part of a set along with the Microphone.